Commercial Locksmith
Back To Our Services
Problems with locks and keys in business buildings can have various negative impacts from higher security risk to lower productivity of the workers, who require more time to get from one place to another and to service customers. Let us eliminate these issues for you timely and effectively via our commercial services. Our company has long-term experience in the locksmith industry and employs highly skilled technicians. We install, repair and replace locks of all types, brands and ages. Rely on us to provide emergency assistance at any time when the need arises. Use our scheduled services to make your property more secure.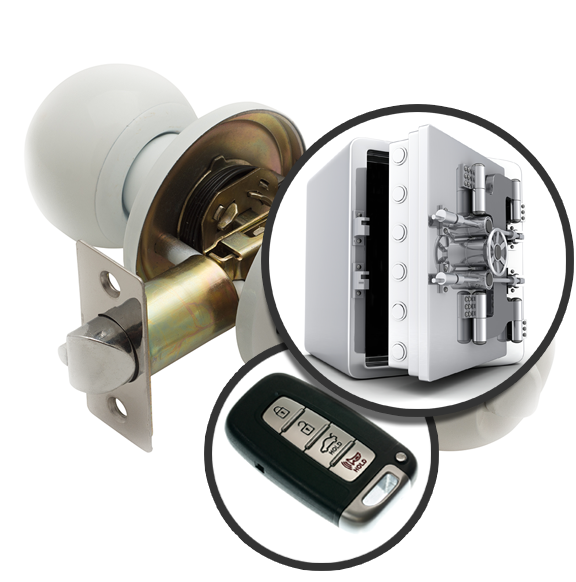 Fast and Dependable Commercial Services by Locksmith Specialists
Why do so many people have to deal with broken office keys often? Usually, this is due to extensive use, which leads to a faster rate of wear and tear. The good news is that we are always available to resolve the problem swiftly and to give you effective and lasting results. You simply need to reach us and you will get a new key of top quality in no time. All materials for key cutting used by our company are carefully chosen for their strength, durability and resistance to damage while the machines are based on advanced technology and maintained excellently.
In commercial settings, locks are also more likely to get damaged and to start malfunctioning. The common symptoms to watch out for include difficulty turning the key, improperly moving bolt, loose lockset and rust. Report any signs of trouble to us as soon as you notice them and you will get the fastest professional lock repair. The cause of the problem is identified quickly through inspection and testing. Only proven repair techniques are applied with the help of the finest modern precision tools. When required, the door closer will be fixed and adjusted for achieving the best result. In the end, you will have a smoothly working lockset. Our service covers file cabinet locks as well.
If the locks are damaged beyond repair, count on us to replace them right away. You will have the option of selecting a new device which meets your requirements to the letter. From us, at "Locksmith Lisle", you will receive all the explanations and advice that you need. At the same time, it is best not to wait until a lockset fails completely. With regular lock upgrading, you will keep the level of security of your commercial building high at all times. Let us do this job for you to save you time, effort and money while giving you reliable protection. We are equally good at setting up master key systems of all sizes and designs. Choose us for safe installation to get the ideal device fitted securely in little time.
Check out our regularly updated special offers.